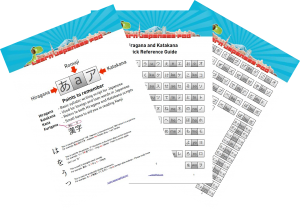 Welcome to the Japanese cheat sheet page which includes our own cheat sheets and links to other free resources for learning Japanese.
To be honest there is no way to really cheat your way to the top when it comes to acquiring a new language. However, I have found some very well designed cheat sheets which list some of the most basic and useful elements of Japanese vocabulary and grammar for quick reference and learning. I think these are good for both beginners and more advanced students of Japanese. Beginners can use these to quickly learn the the most common and elementary vocabulary and phrases. If you are more proficient, these are great revision tools for consolidating and retaining what you have learned. So without any further ado, here are 10 great cheat sheets in no particular order.
Nihonshock Cheat Sheet – A nice diverse cheat sheet with Kana, grammar, particles and vocabulary
Tofugu Particle Cheat Sheet – Slay those pesky particles with the Tofugu cheat sheet. Nice work guys.
Japanese for Dummies Cheet Sheets – Basic essential vocabulary and phrases. Great for beginners.
Kimono Kanji Cheat Sheet – For some more thematic higher level kanji based on Kimonos.
The Ultra Handy Japanese Verb Conjugator – It does what it says on the box
The Japanese Page 100 Grammar Points – Nicely laid out and quick reference guide to basic common grammar used in Japanese.
Tae Kim's Guide to learning Japanese – Not really a cheat sheet but a full grammar text book in PDF format.
Again, if you have any ideas and suggestions for Learn Japanese Pod cheat sheet then please let me know. Enjoy!(Check out our post on my 10 Great Textbooks for studying Japanese here)